Copper Braid are made from 0.10 diameter wire and are braided into a tube followed by a rolling process to flatten them.They are used as earthing straps and are also used in numerous electrical components. All types can be supplied in non-rolled form, as multiple tubes and for screening. It is Highly copper flexible pressed, Bare, Tin & Silver Coated. Flat Braid is mainly used for Earthing Connection & terminals etc.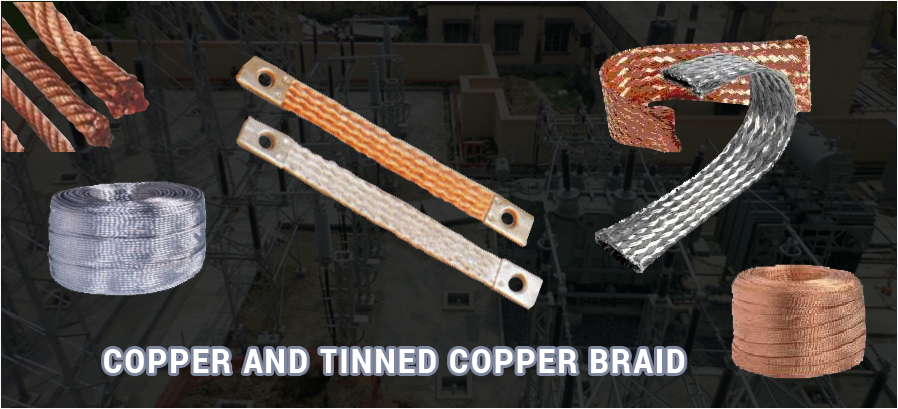 Quality and unquestionable performance of the entire array of copper braided wire, many of the leading industries are widely placing orders for the same. The copper braid is also available in different sizes and dimensions so as to suit the type of applications and requirement of the customers. Our copper braids are also accessible at the most reasonable prices.
We offer a wide choice of Copper Braid types (flat, round, flexible, rope, and layered), strand sizes, finishes, termination options (crimped, pressed and swaged), insulation and identification. Our highly flexible earthing connectors and earth leads are commonly used in switchgear, building services and a wide range of industries. We offer competitive pricing and ex-stock or short lead time deliveries.

We Manufacture a range of Flat, Flexible, Round, Tinned, Rope, Flat and Circular Copper Braids from very fine single braids to heavy duty. quality produced Copper Braids are usually used for continuous current conductors or earth straps (earth bonding cables).

We can manufacture any size and construction of plain Copper braid. Specialist materials are available including stainless steel, aluminium and nickel plated copper.

Alco also offer PVC covered flat and flexible braids to customer's specification. 
These can be made from electrolytic copper Cu-ETP (grade C101) or from oxygen free copper
Even though many of our products are standard items, we also make special tailor made products made exactly to the requirements of our customers.
We use the finest quality material of Copper Braid to ensure consistency of quality and performance, drawing on our supplier's decades of experience in drawing, stranding and braiding, as well as surface treatment.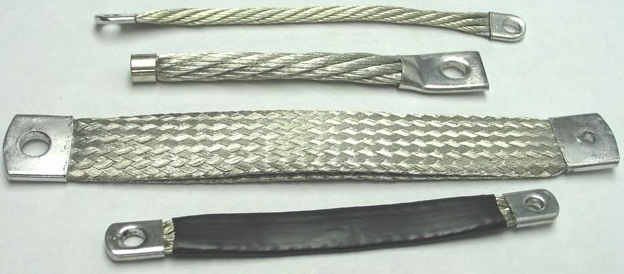 Flat vs. Round Braid.
Storm Copper stocks a very large inventory of both round and flat copper braid to reduce lead times for OEM customers.
• Typically, flat copper braid is used more often because it works well in vertical applications or direct connections where horizontal flexibility is not an issue. Flat braid also has a lower profile and takes up less room in tight quarters.
• When horizontal flexibility is specified, round copper braid is used because it bends and flexes equally in any direction.
Reaching the correct ampacity for a given application is also achieved through multiple layers of copper braid. Multiple layers of braid are selected based on total amperage requirements or current density then assembled in a parallel or stacked format according to a customer's application.
Copper from end to end: Heavy-duty presses are then used to compress the ends of multiple layers into copper ferules. The next task is punching a hole for the connection. Punching is the most economical option, but drilling specific diameters is available and can be readily supplied upon request. Ferrules and holes are rounded on the edges for a solid connection that will not chafe or sever the strands of the braid. 
Copper Braid Construction

The construction of Copper braid is usually written as:

48 / 30 / 0.15, where:
48 = the number of carriers
30 =the number of wires per carrier
0.15 = the diameter of each wire in mm

The cross sectional area (CSA) of a copper braid can be calculated from this information:

(Carriers x wires per carrier x wire diameter ² x 3.142) / 4 So,
for a copper braid with the specification: 48 / 30 / 0.15
this would be:
48 x 30 x 0.15² x 3.142 / 4 = 101.80 / 4 =25.45 mm²